Real Estate Software Development Company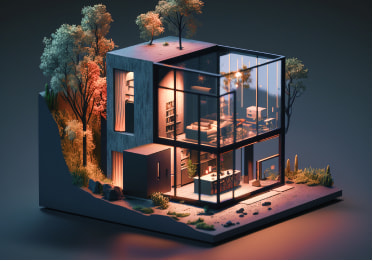 High-End Software Development Services for Real Estate
Are you looking for new and cost-effective ways to use innovative technology in your real estate organization? From creating a business website to developing virtual tours, our real estate software development company is here to help your company thrive.
Taking Real Estate Businesses to the Next Level
Discover modern real estate software development solutions and the ways they can help your business grow.
Real Estate Management Software
Manage your listings, track leads, and automate your day-to-day tasks with custom real estate management software.
Multiple Listing Service (MLS)
MLS software enables you to list your properties in a single location, share your listings with other agents and help buyers find their dream homes faster.
Property Management Software Solutions
Struggling with managing your rented property? Consider creating a handy property management app to track rent payments, schedule maintenance and keep in touch with tenants.
Real Estate CRM and ERP Software
Real estate sales pipelines are complex and specific. You are welcome to automate and streamline them with the help of CRM and ERP systems custom-matched to your business needs.
Real Estate Agency Software
New to the real estate business? Get started with creating must-have software for your company and make it discoverable on the local market.
IDX Technologies
Let's turn your real estate website into a one-stop solution! Showcase your properties in a visually appealing way, making it easy for buyers to find the properties they're looking for with the help of IDX technologies.
AI-based Apps
Feel like your real-estate business needs could be more efficient? So, start analyzing market trends, predicting customer behavior, and optimizing marketing efforts with artificial intelligence solutions for real estate.
Web & mobile real estate apps
If you have long been looking for ways to stay in close and constant touch with your prospective buyers, consider building a web or mobile real estate app and help them find the right property wherever they are.
RETS Integration Solutions for Real Estate
Looking for ways to integrate your MLS data into your website or application? Let our real estate software development company give it an easy way.
Don't let outdated technology hold your real estate business back. Transform your operations with innovative software.
Real Estate Software Development Services You Can Trust
Careful business analysis

We believe an in-depth business analysis is a critical part of a custom real estate software development process. That's why we take the deepest possible look into your needs and always deliver the best value for your investment.

Growth driving technologies

Creating a simple business website isn't enough to compete in the real estate industry. That's why we are always looking for ways to empower your business with innovative and cutting-edge solutions.

Fast turnaround

Since the real estate industry is always influenced by macro- and microeconomic factors, we do our best to help your business stay afloat and adjust on the go to better meet your homebuyers' changing needs.

Long-term support and partnership

Standing for building long-term partnerships with our customers, we offer comprehensive long-term support for all of our real estate app and software development solutions.
Complex Real Estate Development Questions Explained
Usually, real estate agencies use their websites that are frequently integrated with property listings, Customer Relationship Management (CRM) systems, accounting software, and investment software, while the latter is usually powered by artificial intelligence.
The cost to build custom software for real estate depends on the solution you would like to build. For example, creating a one-page business website for a real estate agency can cost up to $1000, depending on the hourly rate of the company you hire for this task. At the same time, the cost to develop more complex projects, like a Customer Relationship Management system or AI-powered real estate software can go significantly higher, reaching up to $100,000. The final price tag will also depend on the number and complexity of the features you would like to build, the number of integrations, and the location of your software development team.
The best software for real estate agents is the one that matches their goals. For example, if you would like to stay in close touch with your tenants or prospective homebuyers, then developing a mobile app is the way to go. If you want to make your business more data-driven, analyze market trends, predict price fluctuations, and take action accordingly, creating AI-powered real estate software will be a solution.
The best real estate software development company is the one that has experience in creating solutions for your niche, listens to your needs, and analyzes your business/market deeply before proceeding with coding itself. At Binerals, we are fully compliant with these criteria as well.
Feel Free to Drop Us a Line
Fill in the form below and we'll get back to you shortly to share practice-proven real estate software development practices!