Application Maintenance and Support Services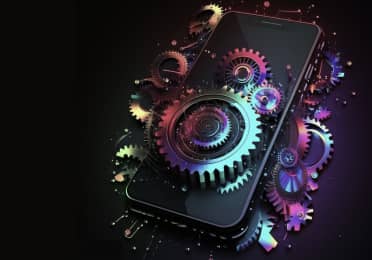 Application Maintenance and Support Services
Keeping your software running smoothly is essential for a high user satisfaction rate and recurring income. Our application support services are aimed at ensuring the round-the-clock and uninterrupted operation of your solution with a strong focus on security and quick troubleshooting.
Unleash the efficiency and reliability of your software solution. Our application maintenance and support services are designed to keep your business at its peak!
Empower your business with uninterrupted software operations!
Get Supported
Comprehensive Application Maintenance Services
Post-Release Software Maintenance and Support
Once your app is released, our team takes charge of ensuring its smooth operation, longevity, and continued success. With our comprehensive support, your app will remain reliable, secure, and up-to-date, guaranteeing a top-notch user experience.
Performance Monitoring, Management, and Tuning
With our performance monitoring, management, and tuning, you will be able to unlock the true performance power of your app. By optimizing resource utilization, streamlining workflows, and enhancing overall efficiency, we maximize the performance of your app, delivering unmatched speed and responsiveness
Release and Deployment Management
Whether it's a minor update or a major feature release, our app development and maintenance team will be glad to assist you. With meticulous attention to detail, we ensure smooth deployments, minimizing disruptions and ensuring a seamless transition for your users.
Quality Assurance (QA) Services
From functional testing to performance, security, and usability testing, our QA and testing team does its best for your app's flawless UX. With our rigorous QA processes, you can be sure that your solution meets the highest quality standards.
Application Enhancement Concerning Request for Change (RFC) Implementations
Keep your app in sync with your evolving business needs through our application enhancement services. Our team professionally handles Request for Change (RFC) implementations, so that your app stays aligned with your ever-changing goals.
Problem Management and Root Cause Analysis (RCA)
We dive deep into any incidents or problems that arise in your app and perform a comprehensive analysis to identify the underlying causes. By addressing the root causes, we eliminate recurring problems and enhance the stability and resilience of your app.
Incident Investigation, Troubleshooting, and Management
At Binerals, we prioritize incident resolution, working diligently to minimize the impact on your app's users. With our service, your app will remain reliable and stable.
Security Issues Identification and Fixes
Looking for a proven strategy to safeguard your app and protect your users' data? Consider our top-notch issues identification and fixes service for keeping your app protected from vulnerabilities and potential risks.
4 Reasons to Opt for Our Top-Notch App Maintenance Services
Turn downtime into productivity
Our application maintenance and support services are aimed at helping your business reduce downtime, prevent critical issues, ensure data security, and optimize related costs along the way.
Leverage the latest tech expertise
Being a top-notch software development company, we are well-versed in the best practices for building robust software solutions and keeping them at the highest performance level.
Stay updated on your app performance
In addition to keeping your application flawlessly functioning, we stay in close touch with your business, reporting possible issues asap and resolving them quickly.
Grow and scale your app seamlessly
Our IT support and maintenance services ensure that your app is ready for increasing user demands, growing data loads, and evolving business needs.
Discover More
Application Maintenance and Support Questions and Answers
Application support and maintenance is an ongoing activity aimed at ensuring seamless software performance and quick resolution of possible issues. Usually, it covers bug fixes, security updates, performance optimization, and user support.
Application maintenance stands for resolving technical issues, like fixing bugs and optimizing app performance. The goal of application support, in turn, is to provide assistance to users when they encounter problems.
Any software product needs professional support and maintenance to have a high user satisfaction rate and business growth potential. The main reasons to opt for this approach are to ensure continuous functionality and compliance, reduce downtimes, implement the latest security patches, and prevent potential losses resulting from application issues or low user retention.
The cost of software application support and maintenance services depends on the complexity of the solution and the level of required support. On average, businesses invest in app support and maintenance 15-50% of the initial development cost annually. You are also welcome to get in touch with us for a free consultation and your project estimate.
Feel Free to Drop Us a Line
We navigate challenges while delivering excellence. Fill in the short form and our tech experts will ensure your software runs smoothly and grows seamlessly in response to your business needs!