Machine Learning Development Company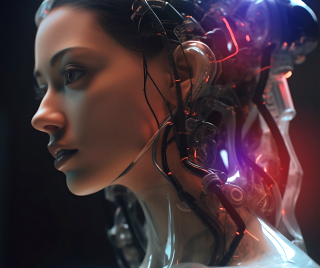 Machine Learning Development Services for High-Tech Companies
Ready to step into the future and leverage cutting-edge innovation that revolutionized businesses across the globe? Explore our machine learning development services and transform your operations with the latest advancements in artificial intelligence technology.
Schedule a consultation with our expert team to explore the possibilities and benefits of AI for your industry.
Transform your data into a strategic asset with our AI development services!
Book a Free Call
Machine Learning Solutions Development at Binerals
Chatbots
From handling inquiries and resolving issues to guiding customers through their purchase journey, our chatbots are tailor-made to deliver exceptional customer support and boost customer satisfaction.
Recommendation engines
Are you planning to develop an eCommerce store or online dating application? Then, harness the power of artificial intelligence to provide your users with relevant recommendations and winning matches.
Sentiment analysis
Do you want to understand your customers better? Now you can do it with our AI-powered sentiment analysis solutions and gain first-hand insights into your customers' opinions and trends.
Natural language processing (NLP)
Voice technology is on the rise, being a promising niche for creating efficient and accessible solutions for a wide target audience. Embrace the future of communication with our state-of-the-art NLP solutions!
Image recognition
At Binerals, we can develop advanced AI algorithms that enable machines to accurately analyze and interpret images, offering unparalleled accuracy, saving time, and eliminating human error.
Predictive analytics
If you have long been looking for the opportunity to unlock your business data and make it work for your company's advantage, consider creating predictive analytics AI software.
Neutral network development
Our expert data scientists have hands-on experience in building and deploying an extensive range of Neural Networks models suitable for predicting, classifying, and clustering your business data.
Data automation
Still struggling with manual data processing? We suggest simplifying and systematizing your data processing processes, making them quicker and smarter with our efficient data automation services!
6 Steps to the Highest-Class AI Solutions Development
Business Analysis and Requirements Gathering
Before AI app development begins, we closely collaborate with business stakeholders, conducting thorough business analysis, identifying pain points, and defining clear goals for the future AI solution.
Data Collection and Preparation
The next stage involves preparing relevant and high-quality data. That's why we collect the necessary data from various sources and databases, clean and structure it, making sure that the data is accurate, complete, and suitable for training the AI models.
AI Model Development and Training
The third step of the artificial intelligence software development process involves creating an ML algorithm and training it with prepared data. Iterative testing and fine-tuning are also conducted to enhance the model's accuracy and performance.
Validation and Testing
Once an AI solution is created, it should be validated and tested using such methods as cross-validation, precision and recall analysis, and performance evaluation against predefined metrics. The goal of this stage is to make sure the model is powerful enough to meet the pre-set business goals.
Deployment and Integration
After successful validation and testing, the AI models are deployed into the production environment. This step usually requires building additional APIs and creating seamless integrations with existing applications, ensuring smooth data flow and process automation.
Monitoring and Maintenance
After an AI model is integrated into the business process, we keep ensuring its continued effectiveness by tracking the accuracy of predictions or recommendations and collecting feedback from users. Any issues or bugs are also addressed at this stage, if any.
Make My Project Run
Get Your ML and AI Questions Answered
Machine learning development services stand for the process of creating web-based or mobile applications powered by artificial intelligence technology. Building an ML app, in turn, requires strong technical knowledge and analytical thinking, so the smartest tactic is to hire a professional ML development team and stay assured that your future app will be tailored to your business goals.
The ways AI can help your business largely depend on the niche your company operates in. For example, eCommerce businesses leverage AI for customer data gathering and analysis, providing relevant product recommendations, preventing payment fraud, identifying customer trends, and analyzing their feedback. Speaking more generally, companies leverage artificial intelligence to reduce their operational costs, use business data analysis, automate manual tasks, reduce human error, improve customer experience, and enhance security.
Choosing an ML development company, consider those tech vendors which have experience in developing ML solutions for your niche. In this way, you will be able to leverage their time-tested best practices and avoid costly mistakes. At Binerals, we have multi-domain AI development expertise and can help you build machine learning solutions for such industries as eCommerce, logistics, social media and online dating, retail, and edtech.
The cost to build a machine learning model is always individual. On average, ML project development cost is nearly $50,000 for an MVP (Minimum Viable Product) while the cost of the full-fledged solution can reach $300,000. The final cost of AI development services depends on the project complexity, the level of expertise required, and the amount of the models you have to build. You are also welcome to get in touch with us, share your business requirements, and get an accurate estimate.
Feel Free to Drop Us a Line
Revolutionize your business with advanced machine-learning development services!